Allocated Seating on Ryanair Flights From Yesterday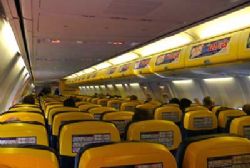 As of yesterday - Friday 31st January - all Ryanair flights will see passengers have the choice of allocated seating when purchasing their tickets.
Never a company to miss an opportunity to charge extra for whatever they can get away with, the low-cost airline has given the passenger three choices at the point of purchase when it comes to choosing their seat :
Premium Seating : Combines priority boarding & disembarking, together with extra leg room on rows 1-5; 16-17 and 32-32. At a surcharge of €10/£10, this fee remains the same as Ryanair's previous reserved seat charge.
Standard Seating : Allows passengers to pre-select their preferred choice of seating (subject to availability) at a €5/£5 supplement, with the choice of adding priority boarding for a further €2/£2 (so basically the same as Premium seating, but without the extra legroom)
Do Nothing : Those who have no preference on their seating plan will be allocated a seat by the airline at no additional cost.
Ryanair passengers who have already purchased priority boarding for flights departing after 1st February can select a standard seat free of charge when checking-in online.