Earthquake Close to Corvera & Paramount Murcia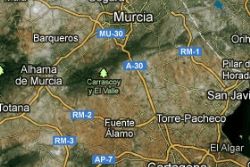 An Earthquake stuck the municipality of Corvera, Murcia, on Sunday morning.
A Seismic activity measuring 2.0 on the Richter scale struck shortly after 09.00 hrs, occurring close enough to the surface to be felt by local residents.
The epicenter was measured 3km to the North-East of the Town of Corvera, close to the A-30 Autovia de Murcia.
Mucia is one of the most seismically active Regions of Spain, and it is hoped and expected that this weekend's events will not adversely effect the Environmental Impact Assessment due to be submitted in the next dew weeks for the Paramount Murcia theme park, located less than 25km away.
Corvera Airport however, is located less than 15km from the epicenter of Sunday's quake.
Further Reading
* 3 Earthquakes in Lorca, Murcia
* Murcia Earthquakes 'Could Happen Again Soon'