Tens of thousands march against abortion bill in Madrid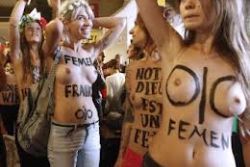 Tens of thousands of people took to the streets of Madrid on Saturday to demand that the Partido Popular government withdraw its abortion reform bill, charging that the Rajoy administration's plans violate women's rights.
The massive demonstration was called by various pro-abortion groups, including women's rights organisations, opposition parties and labor unions.
"The government is going to have to pay a high price for meddling with women," said Jacinta Gallego, a Galician resident who traveled to Madrid to take part in the demonstration.
Propelled by Justice Minister Alberto Ruiz-Gallardón, the reform aims at restricting a woman's right to interrupt her pregnancy in Spain with only 2 reasons : in cases of rape or when the birth poses a threat to the mother's life or health. Abortion on demand as currently exists up to 14 weeks of pregnancy would disappear and nor would a woman be able to seek the procedure because of a fetus malformation.
"You have my word that there will be no screams or any insults that will provoke this minister to abdicate my commitment to comply with the [PP] platform to regulate the rights of women and the unborn," Gallardón said at the PP political conference in Valladolid. "We are not talking about moral issues, electoral advantages, but instead the defense of fundamental rights."
Several prominent PP figures have voiced their opposition to the reform, however.
Meanwhile in Paris, some 5,000 people held a march to protest Spain's proposed abortion reform.
Read the entire archive of Spain's proposed abortion reforms by clicking the link > HERE <