Spain's Bankia shows revenue turnaround as losses fade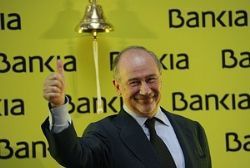 Spain's bailed-out Bankia closed out year-1 of its turnaround with better-than-expected net lending revenue in Q4, putting it on track for a stronger 2014 in which the state could start selling down its holding.
However, the bank undershot Q4 profit forecasts after a spike in provisions against losses in the period as it stepped up a year-end clean-up effort.
Bankia, rescued by the state in 2012 when it struggled to cope with its soured real estate holdings, will join Spanish rivals such as Santander in trying to ramp up recurring revenues this year as an economic crisis fades.
Bankia's net interest income (NII) - its earnings from loans minus funding and deposit costs - fell 21.5% to €2.4 Bln in the whole of 2013.
In Q4 NII reached €690 Mln, higher than analyst forecasts and 7% better than in Q3, echoing improvements noted by peers after a fall in deposit costs.
Bankia's huge losses made it a symbol of Spain's financial crisis when the government was forced to take €41.3 Bln of European aid to rescue it and the country's other ailing lenders in the wake of a property market crash.
Bankia, which made a loss of over €19 Bln for 2012, took €18 Bln of the European funds and was stripped of its bad real estate loans and foreclosed properties.
Spain's 4th-biggest lender still faces challenges - its bad debts as a percentage of total credit reached 14.7% at the end of December, above a November sector average of 13.08% - but the bank's recovery has also enthused investors.
The BFA-Bankia group, including parent company BFA which has sold down some stakes in companies, beat its own profit after tax target of €800 Mln for the year by €18 Mln.
Bank's shares were up around 0.4% at 0825GMT at €1.29 per share.
The Spanish government, which owns 68% of Bankia, has been considering selling down a small part of its stake earlier than initially planned, and possibly in Q1, sources close to the matter have told Reuters.
Spain's bank restructuring fund FROB, which manages the state's Bankia holding, will start looking for advisers this week to steer an eventual selldown.
Bankia posted a €156 Mln profit after tax for Q4 of 2013, less than the €171 Mln expected by analysts. It made a 2013 net profit of €512 Mln, also below expectations in a Reuters poll.
Read the timeline of the Bankia Collapse to Rescue archive by clicking the link > HERE <