King Juan Carlos awards Queen Sofía and Princess Letizia salaries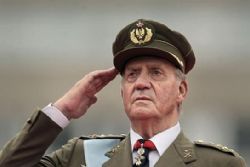 For the first time in his reign King Juan Carlos has awarded a fixed salary for both his wife, Queen Sofía, and his daughter-in-law, Princess Letizia, the Royal Household confirmed.
Queen Sofía will receive €131,739 per year: €63,234 in personal salary and the rest for expenses concurred on official business. Letizia, the Princess of Asturias and wife to the heir, Prince Felipe, will receive €49,182 for personal expenses and €53,282 for official expenses.
Previously, the two women only received expenses, the exact breakdown of which was not disclosed.
The king's salary stands at €140,519, plus €68,505 in expenses arising from official duties.
Prince Felipe will earn the same as last year, exactly half of what the king receives.
The Royal Household also released the accounts relating to the king's recent hospital treatments; the 3 operations the monarch has undergone recently cost €165,189, which was covered by the annual state budget for the royal family.
Last March the king underwent surgery for a double slipped disc, and in September and November 2 interventions to replace a prosthetic hip were performed. All 3 operations were performed at private clinics.
The Royal Household decided last year to publish its accounts after public uproar over the king's 2012 elephant hunting trip to Botswana – where he broke his hip – and the alleged skimming of public money by Iñaki Urdangarin, husband to the king's youngest daughter Princess Cristina, who is due in court this week to testify as an official target in the case.
In total, the Royal Household will receive €7.7 Mln this year from the state budget - 2% lower than in 2013.
Further Reading
* Royal Family of Spain Agree to Transparency