Spain Announces Details of Green Energy Subsidy Cuts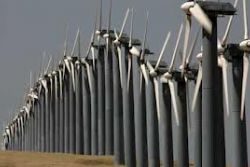 The Spanish Government on Monday announced the finer details of their proposal to slash subsidies for producers of renewable energy - something which is expected to cause widespread defaults across the sector.
The measure imposes new methods of calculation for the payment of subsidies to producers such as large-scale Solar and Wind farms, which could reach €1.8 Bln in 2014 alone.
Such companies now have just 20 days to appeal against the proposals - which will take effect once they have been published in the Official State Bulletin (BOE).
The move is the latest step in widespread changes to the Energy sector last year.
The root of problem stems from the fact that Spain's of maintaining and operating the power grid has long surpassed the revenue generated by the sale of electricity. This has resulted in a so-called 'Tariff Defecit', currently standing at about €30Bln, which the taxpayer will ultimately have to foot the bill for.
The Government is now trying to nip this in the bud and seeking to put an end to costly and unprofitable energy subsidies.
The proposed new calculation intends to consider the "reasonable profitability" of each project for the duration of it's projected life, together with the amount it has already received in state subsidies. The combination of these 2 facts would decide the amount of subsidies available to the project in future.
Spain's association of wind power producers (AEE), has argued that the changes would mean that producers of 37% of the country's wind energy would therefore receive no subsidies at all, and only be able to take a revenue from selling the power they produce at the market price.
The AEE estimates that the remaining 63% of wind farms would see their subsidies cut by around 50%, causing financial difficulties across the sector.
Representative's of Spain's solar industry were unable to comment at this time as they 'were still calculating the effect the measure would have.
A Spokesperson from the Ministry of Energy, Industry and Tourism decline to comment.
Further Reading :
* Spain's Solar Tax : Removing Green Incentives ?
* 42% of Spain's Energy from Renewables 2013 to Oct
* Spain Revising Renewable Energy Laws to Avoid Lawsuits