Spain supports end to Andorra tax haven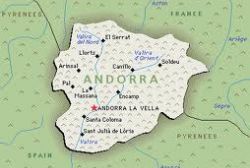 Spain is supporting Andorra in its bid for greater access to the EU. José Manuel García-Margallo, Spain's Foreign Minister yesterday met with his Andorran counterpart Guilbert Saboya.
A Spanish Foreign Minister spokesman said that the meeting was used to "review the excellent bilateral relations between the two countries and to exchange views on relations between the European Union and Andorra".
At the bilateral level, Sr Margallo praised the particularly close relations between the two societies, as well as the "constructive dialogue" between authorities to respond to the issues of mutual interest.
Sr Margallo later said he hoped that negotiations that began in October 2012 can continue on the convention to avoid double taxation between our two countries, reaffirming Spain's commitment.
He also reiterated his interest in continued improvements to regulations on professions, recognising that Andorra would like to open its economy and forge closer ties with the EU, and especially with Spain and France. The minister expressed interest in applying the Foreign Investment Law (LIE) which provides for the liberalisation of the exercise of liberal professions in Andorra.
Madrid said that Sr Margallo welcomed the steps being taken by the Government of Andorra to open and liberalise its economy, which will be beneficial not only for the Principality of Andorra, but also for its neighbours and main trading partners, most notably Spain.
The FM also praised "the progress made in establishing a tax system that is compatible with European systems, which has led to Andorra no longer being considered a tax haven by the EU, something Spain had been requesting. García-Margallo expressed his hope that the new individual income tax will come into force on 1 January 2015 as scheduled."
"At the European level, the Government of Spain, which has traditionally supported the strengthening of relations between the EU and Andorra, now welcomes recent advances being made, given its understanding that the EU is the route to success for reformulating the basis for our bilateral trade relations. He also indicated that these developments will entail the progressive adjustment of Andorran legislation to European domestic market legislation."