Spain starts seeking Bankia privatisation advisers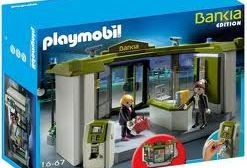 Spain's bank restructuring fund FROB is looking to hire at least one investment bank adviser shortly to help it steer a privatisation strategy for bailed-out lender Bankia, according to a FROB document obtained by Reuters.
The document, which listed the conditions under which appointments will be made, said that advisers to FROB would also be allowed to participate as bookrunners in the sell-down of part of the state's 68% stake in Bankia.
Banks have until this Friday to pitch for the mandate. Bankia said earlier this week that Spain was preparing to start selling down its stake, a process that will likely happen in phases and over several years.
Read the timeline of the Bankia Collapse to Rescue archive by clicking the link > HERE <