Spain to minimise effect on budget of Panama Canal guarantees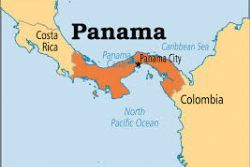 Spain's Economy Minister Luis de Guindos said on Wednesday Spain would seek to minimise any impact on the state budget related to guarantees given to the Sacyr-led consortium in the Panama Canal project.
Majority state-owned insurer Cesce, set up to financially aid international expansion of Spanish companies, provided a guarantee for the Sacyr bid in 2009.
Although Cesce has declined to comment on how much the guarantee was for, a source with knowledge of the operation said it was for €148 Mln.
The Cesce instrument was one of the bonds that had to be put forward to participate in the bidding and guarantees compensation to the Panama Canal Authority if Sacyr does not finish the project.
Further Reading
* Spain Wants Rapid End to Panama Canal Dispute
* Corvera's Sacyr 'Making Progress' With Panama Canal