Spain's 'Anti-Gay' Cardinal Under Investigation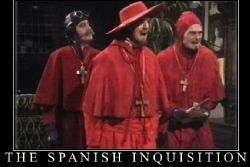 Spain's recently appointed Cardinal Fernando Sebastián is being investigated by authorities to see if he has vilified gay people after comparing homosexuality to an illness – saying gay people were suffering from "a defect".
"A lot of people complain and don't tolerate it but with all respect I say that homosexuality is a defective way of manifesting sexuality," Sebastián said in late January in an interview with the Diario Sur newspaper.
The Cardinal went on to compare homosexuality to his high blood pressure which he said was "a defect I have that I have to correct as far as I can."
"Pointing out a defect to a homosexual is not an offence, it is a help because many cases of homosexuality can be recovered and normalized with adequate treatment," Sebastián said.
Malaga province prosecutors opened an investigation "to clarify whether the allegations constitute a criminal offence" after Spanish LGBTI rights group Colegas lodged a complaint over the comments - saying they breached Spanish constitutional protections by "inciting hate and discrimination."
Colegas welcomed the move by the Malaga public prosecutor, telling AFP it was the first time a church official had been investigated for such comments.
"We're very satisfied because this is the first time," Colegas president Paco Ramirez said yesterday.
Sebastián is one of 19 new cardinals appointed by Pope Francis I and he does not officially begin that role until 22 February.
In the meantime an online petition against his becoming a cardinal has been launched and has already gathered 20,000 signatures.
Further Reading
* Spanish Doctor Offers to Cure Cases of Homosexuality
* Spain 'Most Gay Friendly Country'