Princess Cristina to give testimony in royal corruption case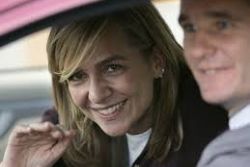 Spain's Princess Cristina - younger daughter of King Juan Carlos - will appear in court for questioning by a judge on Saturday in a corruption case that has deepened public anger over ruling class graft at a time of government spending cuts.
It is the first time since the monarchy was restored in 1975 after the Francisco Franco dictatorship that a member of the royal family has been hauled into court in a criminal proceeding.
Cristina faces preliminary charges of tax fraud and money laundering linked to her use of funds from a shell company she co-owned with her husband Inaki Urdangarin, who is charged with crimes including embezzling €6 Mln of public money.
The princess, 48, accompanied by her lawyer, must answer dozens of questions from the judge in a closed-door hearing set to start at 10 a.m. local time (5.00 a.m. ET) at the main court building in Palma de Mallorca, capital of the Balearic Islands.
Urdangarin, a former Olympic handball player, is accused of using his royal connections to win generous no-bid contracts from the Balearic government to put on sports and marketing events during the boom years before a 2008 property market crash, when local governments were awash with cash.
He and his partners in a consulting firm called the Noos Institute are accused of overcharging, and of charging for services never provided.
The court gave the princess - accused of using Noos Institute proceeds to pay for items such as expensive remodeling of her Barcelona mansion - special permission to be driven to the courthouse door, citing security reasons.
That decision has sparked public outrage because it allows the princess to dodge hundreds of television cameras.
Spanish broadcasters have incessantly replayed footage of her grim-faced husband walking into court along a pedestrian ramp when he went before the judge last year - an image the royal family is eager to avoid repeating with the princess.
SENSITIVE CASE
As Spain slowly shakes free of a prolonged economic and financial crisis, national and local governments are tightening their belts and judges are looking into hundreds of corruption cases from the easy money years before 2008.
The multiple probes of top politicians, union leaders and bankers are being pushed by anti-graft groups while state prosecutors balk at tackling politically sensitive cases.
That is the case with Judge Jose Castro's investigation of Princess Cristina. He has pursued the case spurred on by private anti-corruption groups and despite resistance from the state prosecutor, who has come out in defense of the princess.
After Saturday's hearing, Castro could formalize the charges and move to trial, or he could drop the charges, or he could allow the princess to plea to lesser charges.
Many Spaniards think she will get off lightly.
"This is a country where there are no consequences for being corrupt. They get a free ride," said Maria Gomila, an 18-year-old student near the courthouse, where dozens of civil servants were holding a demonstration against public spending cuts and "institutionalized corruption" on Friday evening.
Castro brought the preliminary charges against the princess in January in a 227-page ruling. Last year he brought charges of aiding and abetting, only to have them thrown out by a higher court. The investigation began 4 years ago.
Both the princess and Urdangarin - who have not represented the Crown at official events since 2011 - have denied wrongdoing.
The princess has stuck by her husband, but last year moved with their 4 children to Switzerland to escape media attention. She works for a charitable foundation there.
The scandal has run parallel to a prolonged slide in the popularity of once-revered King Juan Carlos after a series of gaffes showed his high-flying lifestyle to be woefully out of step with a nation suffering economic hardship.
More than 200 extra police officers are on hand in Palma de Mallorca in case of protests near the courthouse, and road blocks have been put up in the neighborhood.
Further Reading
* Princess Cristina "Is Innocent" : Rajoy
* Spain's Princess Cristina to Testify Over Corruption Charges
* Duke of Palma Causes Further Embarrasment to Spain's Royal Family