"No Need For Concern Over Castellon Airport"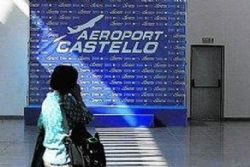 Jose Ciscar, the President of Aerocas - the Concession holder of Castellon Airport - has told the press how there "is no need for concern over the recent management award" for the facility.
Ciscar, who is also the Spokesperson and Deputy President of the Generalitat Valenciana, went on to say how "all legal and technical requirements are in place".
He also confirmed how the valuation committee responsible for screening the 2 remaining candidates have already ruled out the bid submitted by the consortium headed by the Marina d'Or Hotel Group, leaving the Canadian company SNC-Lavalin, and Spain's Gesnaer.
Last week, unnamed sources told the press that the decision had already been made to appoint SNC-Lavalin as the new operator of Castellon Airport. A formal announcement of any decision is yet to be made.
Further Reading :
* Canadian Company New Operator of Castellon Airport