Spain Banks Ditch Debt in Pre-Stress Test Makeover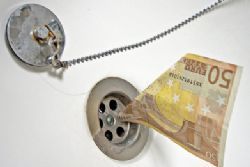 Spanish lenders have sold down lucrative government bond holdings ahead of ECB stress tests, forcing them to think of ways to restore lost revenue.
Banco Popular, a lender that had to raise capital after Spain's stress tests in 2012, reduced its sovereign debt holdings by €5.6 Bln, or 44%, in Q4. Bankinter sold about half its holdings because of uncertainty over how they'll be treated in the exercise the ECB is planning in its new regulatory role.
During the sovereign debt crisis, Spanish banks piled up on public debt just as foreign investors were dumping the assets. As the ECB's examination helps prompt a reversal of that trend, lenders will have to rely more on earnings from their core banking business in an economy that's still crawling out of recession.
"This exercise is helping to hit the re-set button for the Spanish banking system so that it operates under more normal conditions," said Olly Burrows, a credit research analyst at Rabobank International in London. "Banks hoarding bonds has been a sign of the weakness of their business and indicative of a lack of lending to the real economy."
Economic Recovery
Spanish banks sold down their holdings as the bond market rallied amid growing appetite for Spanish securities from foreign investors. The yield on Spanish five-year sovereign debt fell to 2.1% on Feb. 7 from a record 7.59%reached in July 2012 at the peak of the country's debt crisis.
The economy is recovering after 2 recessions and a financial crisis that slashed the amount of credit in the economy by about €400 Bln. As the government forecasts the economy that grew in Q3 for the first time in 2 years will expand about 1% in 2014, data show lending has started to increase on a monthly basis. Bankinter is among banks forecasting loan growth in 2014.
The ECB's exercise, which will scrutinize 16 Spanish lenders, may support that trend as banks seek new sources of revenue, even as demand for credit remains weak. As part of the 3-part assessment of banks' assets, the ECB will simulate the effect of an economic downturn on balance sheets. That will include government bond portfolios, although the ECB hasn't clarified exactly how they will be treated in the test.
Oliver Wyman
The ECB, which is being advised by Oliver Wyman, the same consultants Spain used for its 2012 stress test, has said it expects the scenarios to be sent to banks by the end of April.
Spanish banks didn't wait to see the criteria. Their holdings of Spanish government bonds fell to €173.1 Bln, or 29% of the total, in December from €191 Bln in November and a peak of €203 Bln, or 35% of the total, in August, according to treasury data. At the same time, foreign investors raised their holdings to €243 Bln, or 41% of the total, from 35% in August.
Banks sold into a bond-market rally as the nation prepared to exit its European rescue program and shares in lenders including Bankia, whose collapse prompted the 2012 bailout, surged. That rally allowed banks to make trading gains, providing additional funds to absorb the cost of cleaning up bad loans, according to Antonio Ramirez, a banks analyst at Keefe, Bruyette & Woods in London.
Trading Gains
Banco Sabadell, Spain's 5th-biggest bank, which has reduced its government bond holdings by €3.1 Bln, or 17%, since June, reported €251.6 Mln in net trading gains in Q4, up 38% from the year-ago period. Bankia, whose Spanish sovereign bond holdings like those of No. 2 lender BBVA are broadly unchanged, said on Feb. 3 its fixed income portfolio contributed about 20% of its financial revenues in Q4 and that should remain stable this year.
Banco Santander, the country's no.1 lender, reduced its exposure to sovereign bonds of all countries to €52 Bln from €60 Bln in the last quarter.
While reducing bond holdings, banks have also cut their use of ECB financing amid uncertainty about how the stress test will treat it, Ramirez said. While it's a sign of normalization, it also removes a cheap source of funding that helped swell margins.
Santander's Spanish business no longer has any funding under the ECB's LTRO program, compared with the €35 Bln it originally took. Banco Popular has cut its LTRO use to €1.25 Bln from €8.5 Bln in September, and €17.2 Bln a year ago.
"The Spanish banks have been trying to tick off some boxes before the stress test exercise," Ramirez said. "They've been ticking 3 boxes by reducing sovereign exposures and ECB funding and building up provisions."