Spain's Main Parties Lose Ground in Opinion Poll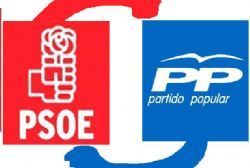 There is bad news for both of Spain's 2 major parties in an opinion poll published in Sunday's edition of the El Pais newspaper.
The poll, carried out by Metroscope for the newspaper, shows a continued fall in support for both the ruling Partido Popular (PP) and the main opposition, the Spanish Socialist Workers' Party (PSOE).
The PP lost 1.8% of the vote in the last month, falling to a level of support of 30.8%, 14% below the 44% they received in winning an overall majority in the November 2011 general elections.
The PSOE holds a slight lead over PP, but the party, currently led by Alfredo Perez Rubalcaba can hardly be content given their share of the vote has also declined by 1.8% to stand at 31.7%.
This fall in popularity of the two major parties is especially relevant in the face of the forthcoming European elections in May, where the general dissatisfaction among the Spanish people for their leaders will probably lead to a low turnout of 65%, considerably below the turnout in November 2011.
The low turnout, coupled with the drop in popularity of the main parties implies that both the PP and PSOE can expect their worst electoral performance in terms of votes in their respective histories.
Their relative success in the polls will depend to a great extent on whether the PP can convince voters that their policy of fiscal restraint and cutbacks is on the verge of producing an economic upturn.
The PSOE will hope that the unemployment rate of 4.8 million Spaniards out of work, corruption allegations against the PP and the unpopular abortion law which has been approved by Mariano Rajoy's party, will be factors persuading voters, who may be tempted to stay at home, to go out and register their discontent.
Other parties will also hope to benefit from the current situation with the left wing Izquierda Unida (IU) seeing their share of the vote rise to 13.5% in Sunday's opinion poll, while the center-right UPyD would currently take 8.5% of the vote, which is twice the 4.7 they polled in 2011.