Brittany Ferries Launch UK - Spain Economy Service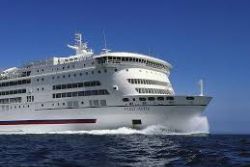 Brittany Ferries is taking a tip from a number of budget airlines, and launching "Brittany Ferries économie".
The new service will offer 1 weekend crossing between Portsmouth and Santander, and 4 5 return crossings between Portsmouth and Le Havre - 1 of which will be freight-only.
Passengers will be offered a limited catering service, with basic en-suite cabins available, but reclining seats will also be available for those wishing to spend a little less.
However, each vessel will have 2 specially adapted disabled cabins, and 12 pet friendly cabins.
One way fares for a car plus 2 passengers this spring will start at just £79 to France and £169 to Spain, which includes 2 reclining seats.