Half of All Brit Expats in EU Live in Spain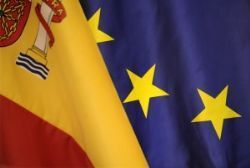 Statistics released by the British Government have revealed how just as many UK expats live in the EU as the reverse, despite popular opinion to the contrary.
Data for the year 2010 was submitted last week in an official response to a parliamentary question by Matthew Oakeshott, a Liberal member of the House of Lords.
Compared to the 2.3 million EU citizens living in the UK - which includes people who came after Poland and 9 other states joined the Union in 2004 - it is estimated that 2.2 million Brits live in the other 26 EU countries, excluding Croatia, which joined in 2013.
900 Brits are thought to live in Croatia.
The British Consulate's breakdown by country estimates that just over 1 million British people live in Spain.
Other popular destinations were revealed to be France (330,000); Ireland (329,000); Germany (107,000); Cyprus (65,000); the Netherlands (48,000); Greece (45,000); Portugal (39,000); and Italy (37,000).
However, just a fraction of Expats chose to live in Eastern European countries, such as Poland, with just 6,000 residents.
20% of all expats are estimated to be pensioners.
However, the figures could be even higher, due to many Expats choosing not to officially register themselves in countries such as Spain, France and Portugal.
The Consulate data comes at a time when the subject of EU immigration is expected to be debated at length ahead of May's European elections. Political party UKIP have already (until now, at least) been proved wrong with their prediction that the UK would become flooded with economic migrants from Romania and Bulgaria when labour restrictions were lifted on 1st January 2014.
PM David Cameron also singled the Polish out as cheating the UK out of benefits, despite having no evidence to prove his point.
Lord Oakeshott told the FT that the "scaremongering … could poison the atmosphere for 2m of our fellow countrymen in the rest of Europe."
But Mark Field, a Conservative MP, told the same newspaper that "These [figures] are not like for like: Lots of Brits abroad are successful people living in 2nd homes in Spain or France".
"Most Brits living abroad are not aggressive beggars or sleeping rough on the streets."
Recommended Reading :
* UK MPs Should Represent Expatriates
* Britain Has More Expats Than Any other EU Country