Murcia's San Javier Airport : No Imminent Plans to Close for Corvera ?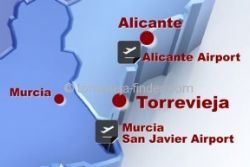 The website of Spain's state-owned Airports operator - AENA - has announced it is offering lower parking charges for the summer season of 2014 at Murcia's San Javier Airport.
Whilst clearly good news for frequent flyers to and from the airport, it seems to add further proof to claims by the region's Socialist opposition party that neighboring Corvera Airport is some way from becoming operational.
It had previously been hoped that the newer airport - located just 18km from San Javier Airport - would be open by September. However, with the older airport having to be closed, and staff relocated to the newer facility before Corvera can operate, this morning's news looks as though AENA have no plans to do so in the immediate future.
Further Reading :
* 1 Year Since 'San Javier Airport Will Not Close' Tweet
* "Why Did AENA Invest in San Javier Whilst Corvera Underway ?" : Congresswoman