BBVA raises GDP growth forecasts for 2014-2015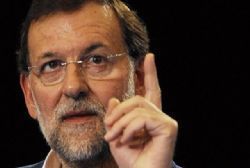 The research department of the BBVA bank said Tuesday that it has raised its growth forecasts for the Spanish economy for this year and the next, while predicting the pace of activity would be sufficient to create jobs consistently for the first time since the crisis broke in 2008, but not enough to make big inroads into the unemployment rate.
BBVA Research said it now sees GDP growth accelerating to 1.9% in 2015 from 0.9% this year, a 2014 figure which is in line with the consensus forecast of a panel of experts in a survey carried out by the leading financial think-tank Funcas. The government's official forecast for this year is for growth of 0.7 %, although Economy Minister Luis de Guindos has said he expects the figure to be around 1.0%.
BBVA predicted a net job creation rate of 0.4% for this year and 1.0% for 2015, with the jobless rate falling to 25.6% in 2014, from just over 26% at the end of 2013, and to 24.8% by the end of next year.
However, the bank warned there are risk factors to its forecasts and urged the government to continue with its reform drive in order to push the annual average growth trend to above 2.5%. In the absence of further reform, BBVA said it could take a decade to increase the number of people in work to around 20 million from around 16 million at present.
Recommended Reading :
* Spain's Economy to Grow 1.0% in 2014 : Minister