Spanish parliament to press on with restrictive abortion bill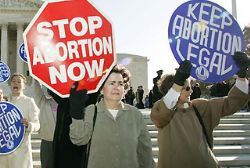 Spain's Socialists failed on Tuesday to block an unpopular draft law restricting women's access to abortions, which has sparked large protests across the country and caused rare rifts in the conservative Partido Popular (PP) that sponsored the bill.
In an unusual secret ballot, which gave its members a chance to go against the ruling party's line without being exposed, the PP, with an absolute majority in parliament, was able to defeat a motion to block the law.
Thousands of people around Spain have joined marches in recent weeks to show their opposition to the bill, which will limit abortion to cases of rape or severe danger to the mother's health.
Several PP politicians have spoken out against the law, which will make Spain one of the most restrictive countries in Europe and overturns rules that allow abortions on demand in the first 14 weeks of pregnancy.
But the motion, put forward by the Socialists, was rejected by 183 votes, with 151 in favour and 6 abstentions.
"If this goes ahead, the number of abortions in Spain will (still) rise and many of them will be more dangerous abortions for women," said Elena Valenciano, deputy leader of the Socialists, told parliament in a debate before the vote.
"Inequality will grow, (and) Spanish women will once again be divided into two groups: those that can travel to a neighbouring country and undergo a safe abortion and those that cannot."
A PP member of parliament defended the party, saying it was in favour of further debate rather than simply dismissing the issue, as the Socialists were proposing.
"We are prepared to have a dialogue," Marta Torrado de Castro said.
The bill will be subject to more discussions in parliament before being written into law.
PM Mariano Rajoy's cabinet approved the draft bill last December in a move widely seen as a bid to soothe his party's right wing, although the PP has lost ground to the Socialists in opinion polls since.
Polls show 80% of Spaniards, including practicing Catholics, support abortion on demand.