Valencia Asks Rajoy to Spend Bond Windfall on Regions Rescue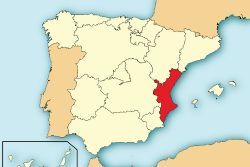 Valencia, the region with the largest budget deficit in Spain, called on PM Mariano Rajoy to use the cash he's saving as borrowing costs decline to help out states struggling to balance the books.
Valencia will need an extra €1.5 bln from the central government coffers to meet its deficit target this year of 1% of GDP, Finance Chief Juan Carlos Moragues said in an interview yesterday. His government has asked Rajoy to create a fund for struggling regions before a wholesale redesign of the financing of Spain's semi-autonomous states due next year.
"Without extraordinary revenue, it isn't possible to comply with the target," Moragues said during the interview at his office in Valencia. "They have a buffer that could be used to help under-funded regions."
Valencia's budget battle illustrates the challenges still facing PM Mariano Rajoy as he tries to balance the public accounts and restart the economy after a 6-year slump. Spain's 4th-largest region in terms of GDP was the worst hit by the end of a real estate boom in 2008, as its output shrank by over 9%.
Missing Deficit Target
Moragues said that the Spanish Treasury's lower funding costs this year and higher-than-expected growth will probably mean the central government has the cash to bail out regions that don't have enough income this year.
A Valencia note maturing in July 2015 fell today, with the yield jumping 17 basis points to 2.16% at 9:37 a.m. in Madrid. Similarly dated Spanish Treasury paper was unchanged at 0.82%.
The coastal region's deficit will probably be above 2% in 2013, Moragues said, confirming a report by Spain's Budget Ministry on Jan. 29. That compares with a target of 1.6%, the highest granted to any region.
Still, the regional administration doesn't expect to be ousted by Montoro over its failure to meet its targets, Moragues said.
"We are doing everything we can to reduce the deficit and the central government knows that," he said.
Valencia aims to capitalize on the bond rally to issue debt for the first time since November 2011 before the regional government's mandate ends in 2015, Moragues said. The region, and eight others, is currently financed by the central government. Its debt burden has more than doubled since the beginning of the downturn to about 30% of output.