Spain Ask Banks to Accept Losses on Highway Loans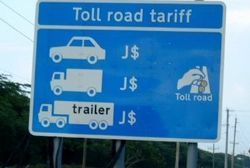 Spain's government is asking banks including Santander and BBVA to accept losses on about €3.5 bln of debt backed by highways, 3 people familiar with the matter said.
Officials discussed their proposal with the lenders that financed eight failed highways at a meeting yesterday, said the people, who asked not to be named because the talks are private. Officials, who also invited the owners of the concessions to the talks, are asking banks to accept haircuts to reduce the potential cost for taxpayers, the people said. They didn't specify the size of the proposed write-down.
The government has been searching for a formula to rescue about 364 miles of insolvent highway concessions owned by builders including Ferrovial, Sacyr and Actividades de Construccion y Servicios. The taxpayer is on the hook for at least part of their liabilities under a 1972 law governing public concessions.
A spokeswoman for the Public Works Ministry, who declined to be named in line with policy, said no decision has been taken and the government will opt for the solution that has the least impact on the deficit and is best for Spanish citizens. Spokespeople for Santander and BBVA declined to comment.
The Budget Ministry had rejected a plan that would have meant the state guaranteeing about €1.25 bln of new 30-year loans, a different person who was also familiar with the matter said last month. Budget officials were concerned that a guarantee would set back its plan to reduce the deficit.
The latest round of talks comes after the government approved rules limiting its liabilities to concession owners. Under the 1972 law, the state has to repay its investors for the cost of the land and the construction when a private highway goes bust.
Further Reading :
* Spain to Rescue Failing Toll Roads
* Madrid-Barajas Airport Toll Road Files For Bankruptcy