UAE company sues Spain over renewable energy reforms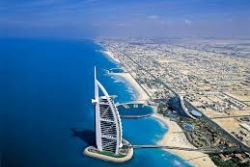 The UAE's state-owned renewable energy firm Masdar has filed a legal complaint against Spain before the International Centre for Settlement of Investment Disputes (ICSID) over changes to renewable energy rules.
The Spanish government has passed a series of measures over the past two years that have cut and, in some cases, even eliminated subsidies on renewable energy assets and capped profits.
Critics of the new laws, aimed at mending years of policy that has created a €30 bln electricity tariff deficit caused by a gap in regulated prices and costs, say they renege on the original terms of firm contracts.
"Retroactive changes to Spain's regulatory framework have compromised investments made by Masdar Solar & Wind Co within the country. These recent regulatory changes negatively impacted the investments made by the company and many other international entities," a spokesman for Masdar Solar & Wind Co., a Dutch subsidiary of the UAE company, said.
"As a result of the Spanish government's unwillingness to overturn the regulatory changes, we are pursuing legal action to protect our investments," he said, noting that other investors are also pursuing legal action.
Legal suits with the ICSID over the new energy laws have also been filed by foreign funds RREEF Infrastructure and Antin Infrastructure.
The ICSID, a member of the World Bank Group, facilitates arbritration of legal disputes in international investment cases.
Masdar is a wholly-owned subsidiary of the Abu Dhabi Government-owned Mubadala Development Company , charged with investing some of the Emirate's vast oil wealth in the global green energy market.
SSolar energy has struggled to take off in the UAE, despite abundant sunshine, as heavily subsidized fossil fuel makes unsubsidised green energy investments economically unattractive.
The complaint by Masdar , posted on the ICSID website, was filed on Feb. 11.
It is unclear how much claims might be worth, but international funds last year had more than €13 bln of renewable energy assets in Spain.
Further Reading :
* UAE Encouraged to Increase Investment in Spain