Preferred Operator of Castellon Airport Makes Progress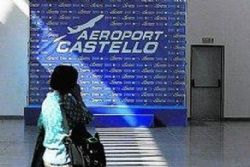 The company that has been 'provisionally' nominated to operate Castellon Airport - SNC Lavalin - has already submitted 3 out of the 5 documents required by Aerocas in order to secure the contract award.
The Canadian-based multinational has already submitted proof of finances, together with a confirmation from the Spanish Authorities that they are aware of and able to abide by their potential tax and social security obligations as employers in Spain.
Finally, SNC-Lavalin has also provided details of its legal representation in Spain, who are based in Madrid.
Although the Spanish offices of SNC Lavalin are based in Madrid, with a subsidiary in Valencia, the operation of Castellon Airport is expected to be overseen from their office in Paris.
As such, Aerocas and the Generalitat Valenciana are holding negotiations with the Madrid-based legal representatives of SNC-Lavalin, as opposed to the Candian or French offices.
Confirmation of payment of the €1.2 mln guarantee is expected to be made over the next few days, which is required in the event of any significant losses being returned at the facility during the first 10 years of operation.
Further Reading :
* Canadian Company is New Operator of Castellon Airport