Ciudad Real Airport back in operation (Just not as an Airport)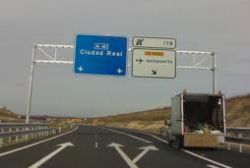 The Bankrupt Airport of Ciudad Real has once again been put to use - although not as orginally intended.
Originally open for international flights in 2010, the facility has not seen any scheduled commercial arrivals since 2011, before the private owners filed for bankruptcy in 2012.
The facility is currently searching for a new buyer, with the sale process entering a 3rd phase due to the only interested party being unable the required securities to the administrators.
However, this week's activity has little to do with aviation - instead being chosen as the setting for a number of scenes for a film - "Torrente 5", by Spanish Actor and Director Santiago Segura.
The Film will star Alec Baldwin, but will also include a cameo appearance from Diego Pablo Simeone (of Argentina : David Beckham fame), and be based around a Casino Heist.
Late last year Actor Jean-Claude Van-Damme starred in a commercial advert for Volvo Trucks, which went viral on Youtube, making it the 6th most visited clip of 2013.
Recommended Reading :
* Ciudad Real Airport : "6th Most Visited in World 2013"
* Businessman Makes 3rd Offer to Buy Ciudad Real Airport