Bankia sees 5-10% stake sale in first privatisation round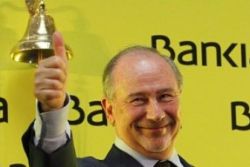 Spain will probably begin the privatisation of bailed-out Bankia with the sale of a 5 - 10% stake to institutional investors, the bank's Chairman Jose Ignacio Goirigolzarri said in an interview published on Sunday.
The sale of the bank, in which the government holds a 68.4% stake through its restructuring fund FROB, will be carried out in phases over the next few years, Goirigolzarri told newspaper ABC.
"The most likely privatisation process is similar to that of Lloyds," he said, referring to the successful sale by the British government of a 6% stake in partly-nationalised Lloyds last September for €3.2 Bln.
"The first (stake sales) will be smaller than the rest. We're thinking of between 5 - 10%. And it will be placed with many institutional investors."
Bankia became the symbol of Spain's financial crisis when it lost more than €19 bln in 2012 because of soured real estate holdings and it needed almost half of a €41.3 bln European aid package for Spain's ailing lenders.
Economy Minister Luis de Guindos told Reuters on February 13 that small stakes could be sold during the year before a bigger sale in the medium-term, although the state will retain a majority holding for some time.
Under Bankia's Europe-agreed restructuring plan, the Spanish government has until 2017 to sell the stake.
FROB said on Friday it has chosen Goldman Sachs to advise it on the sale of part of the government's controlling stake.
The bank would probably issue more debt this year after the sale of €1 bln of a 5-year bond early in January, Goirigolzarri said in the interview.
Read the timeline of the Bankia Collapse to Rescue archive by clicking the link > HERE <