Murcia given 5 Days to decide future of Corvera Airport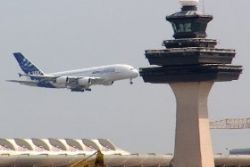 The Regional Government of Murcia has just 5 days to respond to Aeromur - the consortium lead by Sacyr - with any decision concerning their re-appointment as the operators of Corvera Airport.
The consortium are seeking for Murcia to 'legally annual' the previous contract - which was terminated in September of last year - after seeking legal advise, and in order to pave the way for a new agreement to be made.
However, Murcia must advise Aeromur of any decision in this direction by the end of the week.
According to Manuel Campos, Presidential Advisor for the Regional Government, the matter is as yet undecided, and as such they may propose an 'Intermediate solution'.
The Government is currently awaiting he decision of their Director of Legal Services.
In order to annul the previous contract, Campos says that the decision can only be made by Brussels, to ensure that doing so would not violate European law. If it did not, the sticking point that is the €182 Mln loan guarantee granted by the region could be smoothed away.
Aeromur said how the regional authorities could have considered these steps back in October of last year.
Further Reading :
* Who exactly is in charge of Corvera Airport negotiations ?
* Aeromur continue Corvera Airport negotiations with Murcia