Spain to try former CAM executives over bank's collapse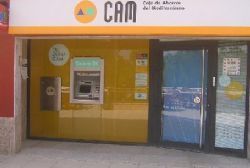 Spain's High Court is set to try two former senior executives at CAM, a small regional savings bank that needed a costly rescue, in one of the few investigations to make it to trial after the country's devastating financial crisis.
Roberto Lopez Abad, ex-director general of CAM, and the former head of the bank's internal regulation body, Juan Ramon Aviles, will be tried on charges of misappropriation of funds, improper management and corporate crimes, according to a court documents released on Tuesday.
Aviles's lawyer and son Gines Aviles said he had no immediate comment on the order to proceed to trial as he had not yet received the formal documents from the court. A lawyer for Lopez Abad could not immediately be reached for comment.
If convicted, the men could face jail terms of between two-and-a-half years and 4 years. No date has yet been set for the trial.
Magistrates in Spain have charged more than 100 bankers in connection to the collapse or near-collapse of several savings banks, many of which were tripped up by investments that turned sour after a 2008 real estate slump.
Spain had to ask Europe for €41.3 bln in 2012 to help its weakest banks, and it has spent more than €61 bln since mid-2009 to prop up the sector.
Following the 2008 global financial crisis, legal sanctions for top executives still remain a largely remote threat, and in Spain the court investigations have yet to lead to convictions and some are unlikely to even proceed to formal trial.
But the search for those responsible for the crisis is gathering steam. The CAM (Caja de Ahorros del Mediterraneo) trial will be one of the most high profile in Spain yet.
The savings bank, based in the easterly Valencia region, became one of the early symbols of Spain's financial crisis. Its woes inspired the former central bank head to call it the "worst of the worst" after it was bailed out in July 2011.
CAM was eventually sold by the state to Sabadell for €1, after a €5.3 bln capital injection and with a €24.6 bln asset protection scheme to cover potential losses on its portfolio of property assets.
Aviles is also accused of awarding a falsified contract, the court said.
Spain's biggest banking debacle - the €22.5 bln rescue of Bankia, which was bailed out less than a year after its 2011 stock market flotation - is still being investigated by the High Court.
Recommended Reading :
* Spain Judge Orders Detention of Ex CAM Bank Executives