UK protests over Spanish incursion into Gibraltar's waters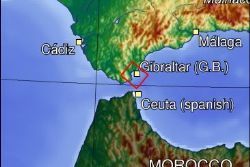 Britain said on Wednesday it would make a formal "high level" protest to Spain over what the British Foreign Office described as an incursion into Gibraltar's territorial waters by the Spanish Navy earlier this week.
The incident is the latest in a long line of diplomatic spats between Britain and Spain over Gibraltar, a rocky outcrop off Spain's southern coast that Madrid ceded to Britain 300 years ago, but that the Spanish authorities now want to reclaim.
"There was an incursion into British waters near Gibraltar by the Spanish Navy on 18 February, during a Royal Navy exercise," a Foreign Office spokesman said in a statement. "We are raising this at a high level with the Spanish government and will be issuing a formal protest."
Local media in the British overseas territory reported that a Spanish naval vessel had entered Gibraltar's waters using a fake name and call-sign before eventually being escorted from the area.
Tensions flared last summer when Spain complained that an artificial reef being built off Gibraltar was blocking its fishing vessels. Madrid responded by tightening border controls, causing long delays.
The European Union's executive was called in to arbitrate on the border dispute, but said it had found no evidence that Spain had broken EU law by imposing tighter border controls.
Read the timeline of the ongoing conflict over Gibraltar by clicking the link > HERE <