Spain's Banks Must Bolster Capital to Help Recovery : IMF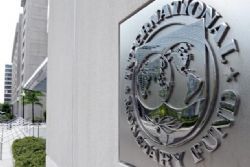 Spain must push its banks to keep building capital to contribute to the economic recovery after the completion of a European Union aid program, the IMF said.
Lenders should take advantage of a jump in share prices to raise capital in "absolute levels," the Washington-based fund said today in its final review of Spain's progress in meeting the terms of its bank bailout. It also recommended that lenders limit dividend payments for another year to avoid having to cut credit to support capital ratios.
"The program's specific measures are now complete," the IMF said. "Reform priorities in the financial sector include measures to further enhance banks' ability to lend and support the recovery."
Less than 2 years since PM Mariano Rajoy sought European loans for lenders, funding conditions for banks and the sovereign have improved. Spain's aid program ended in January and the government paid the least since 2006 to borrow for 10 years at an auction today.
Private-sector deleveraging and fiscal consolidation will remain "headwinds for growth for some time," adding to "challenges to bank profitability," the IMF said, in line with a European Commission report on Jan. 29. Non-performing loans rose to a record 13.6% of lending in December, and Spain's unemployment rate remains the 2nd-highest in the EU.
"Major structural reform efforts in a variety of areas, including labor and fiscal policies, will need to continue to achieve sufficiently rapid growth to bring unemployment down," the IMF said.
The government should consider tax-rule changes to encourage asset disposals, according to the review. At the same time, rules on provisioning should encourage corporate debt restructuring, including increased conversion of corporate debt into equity, the IMF said.
Economy Minister Luis de Guindos announced measures this month to help indebted companies restructure.