Spain to discuss change in Panama Canal project guarantee - sources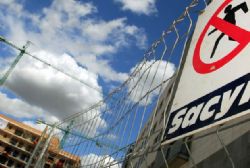 A Spanish government working group will discuss changing the status of a state-backed guarantee given to builder Sacyr to secure a contract to widen the Panama Canal on Thursday, two sources with knowledge of the matter said.
The government is considering changing the contract of the guarantee, worth around €145 mln and given to Sacyr in 2009, into backing for a loan to get the project finished from a guarantee that pays out in case the project is not completed, the sources said.
The guarantee was originally drawn up by Spanish state-backed insurer Cesce as a counter guarantee to a €290 Mln insurance bond from Zurich that backed the project.
Sacyr declined to comment. Cesce declined to comment. The Economy Ministry declined to comment.
The disagreement between Panama and a Sacyr-led consortium over €1.17 Bln in cost overruns and how to maintain financing has already halted work on the project for 2 weeks and has delayed its projected completion until at least December 2015.
One of the sources said on Wednesday it was likely the working group would agree to change the nature of the state-backed guarantee, as it was important for Spanish business for the high-profile project to get up and running again.
"It's very likely that the working group will agree tomorrow to let the Cesce guarantee convert into a guarantee for Sacyr to get more funding," the source said.
A major sticking point in negotiations between the two parties is the conversion of a €292 Mln bond from insurer Zurich North America into backing for a loan so the consortium can secure a short-term cash injection needed to continue its work, sources familiar with the talks said earlier this week.
The consortium took out the bond as a required insurance policy in case it did not finish the project. The bond is payable if the project is not completed by the consortium for any reason.
Further Reading :
* Spain to minimise effect on budget of Panama Canal guarantees