Paramount Release Further Details of Murcia Theme Park Plans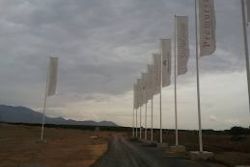 Paramount Pictures has released further information concerning their proposal for the design of their theme park at Alhama de Murcia.
The project is currently expected to be complete in time to open to the public between December 2015 and January 2016.
The major attractions will be split into zones which focus on cult movies, and each zone will also follow a different theme.
For example, the 'Futuristic Zone' will follow a 'Star Trek' theme, and employ 3D technologies in the form of a simulator of the Starship Enterprize, and 'warp speed' roller coaster, which is expected to have a number of subterranean sections.
The 'Adventure Zone' will follow the theme of 'Grease', 'The Godfather' and 'Mission Impossible', whereas the 'Wild West' Zone will follow the theme of the animated character 'Rango'.
Finally the 'Enchanted Forest Zone' will use theme such as the 'Sleepy Hollow' and 'Spiderwick Chronicles' films.
Although the use of such zones and themes has been suggested for some time, this is the first time that the specific films and zones have been officially 'paired'.
Whilst the vision and ambitions of Paramount Pictures and the park's promoter and developer Proyectos Emblemáticos Murcianos SA (Premursa) are beyond question, the announcement may have held a little more weight if the the small matter of where the remaining €330 Mln required investment was expected to be found could have been addressed.
Recommended Reading :
* No New Environmental Impact Plan Required For Paramount Murcia