Spain Welcomes 3.1 Million Tourists in January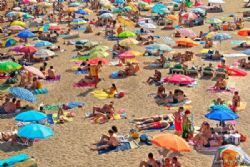 Spain welcomed in January some 3.1 million foreign visitors, 12.3% more than in the same month of 2013, the Industry, Energy and Tourism Ministry said Friday.
The amount sets an all-time record for the first month of the year, topping the previous best established in January 2008 with 2.9 million visitors.
These numbers come after last year closed with a record 60.66 million international tourist arrivals in Spain.
Britain was the principal source with 552,526 tourists, 18.1% of the total and 9.2% more than in January last year, while France accounted for 493,432 visitors, up 19.5% from the same month in 2013.
Also increasing were arrivals from Germany, the Nordic countries, Italy, the Netherlands, Belgium and Portugal.
Among the various tourist destinations, the Canary Islands received more than 1 million visitors, or 13.7% more than last year, followed by Catalonia with 736,255, up 13.6%.
Tourism is one of the main sources of revenue for the Spanish economy. In 2012 it contributed 10.9% of the gross national product and employed 2.1 million people, according to figures of the National Statistics Institute provided in December 2013.
Recommended Reading :
* EU Predicts Another Bumper Year of Tourism for Spain