Ciudad Real Airport Sale Falters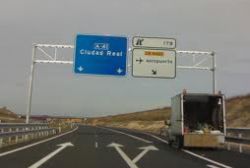 The Chinese travel group - HNA - who last week requested an extension in the deadline for the sale of Ciudad Real airport in order to prepare a bid - has rejected the administrators request that the group finance the legal costs of doing so.
The legal costs of arranging an extension of the deadline had been placed at around €100,000, and after extending the deadline on 2 previous occasions it is perhaps understandable that the administrators are keen to recover some of these costs.
The receivers of the Bankrupt facility had stipulated that the payment should have been made by 14:00 Hrs on Friday if the process was to to be extended.
No such payment was received, meaning that an extension is unlikely to be granted.
The HNA Group, which currently owns 24% of Spain's NH Hoteles group, have indicated that they will wait for the current phase of the sale process to pass (assuming there are no bids submitted) and instead submit a bid in the following phase, thereby saving the €100,000 cost.
To say the sale process to date has been a disappointment for the receivers of the airport would be an understatement. In the 3 months since the process began the deadline for the first of the 3 phases for the sale of the airport has been extended twice, with just 3 parties having expressed an interest : Malaga businessman José Francisco Ortiz; Burgos Vieco Serdife S.A,. based in Miranda de Ebro and the Chinese HNA Group.
All 3 parties have failed to meet one or more of the various conditions submitted by the administrators - namely provision of the required Bank Security Deposit.
The question now is whether the first phase - whereby the airport will be open for offer of €100 Mln or above - will be extended for a 3rd time, or if it will enter the second phase - whereby the airport will be offered at €80 Mln or above.
The Spanish Press is also full of rumours that a number of parties who have previously not expressed an interest in buying Ciudad Real Airport are expected to submit bids for the second Phase of the process.
For example, following their rejection as participants in the sale of Castellon Airport by the Generalitat Valenciana, both the Russian Development Foundation and the Gesnaer / Marina d'Or consortium are thought to be keeping a close eye on proceedings.
News Archives :
* Ciudad Real Airport News Archive
* Castellon Airport News Archive