New poll shows Rajoy ahead following state of the nation debate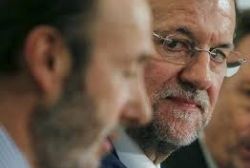 Spanish citizens are of the opinion that PM Mariano Rajoy scored a palpable victory over opposition Socialist leader Alfredo Pérez Rubalcaba in the state of the nation debate in Congress on Tuesday, according to a poll conducted by the Center for Sociological Studies.
Of the 1,600 people quizzed immediately after the verbal jousting between the political leaders, 29.9% handed Rajoy the triumph while 14.2% opined Rubalcaba had got the better of his opponent. Among the other parties participating United Left leader Cayo Lara came out on top, with 2.8% of people saying he had shone in the exchanges. Rosa Díez, of the centrist UPyD grouping, gained 1.8% of the vote.
However, 36.2% of respondents said none of the participants had landed a decisive blow.
Rajoy's advantage over Rubalcaba stood at 14.7 percentage points in the latest poll, compared to 26.9 percent after last year's debate.