Spain sees closure of 27 bars per day during crisis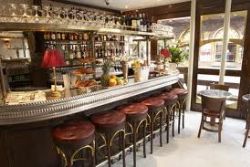 The full extent of the country's economic crisis has affected the very heart of Spanish culture, according to the Federation of Hospitality and Catering.
According to the President of the association, Jose Maria Rubio, around 10,000 bars and restaurants closed for business in 2013 alone, averaging 27 per day.
The total number of cafe's, bars and restaurants to have shit down - for whatever reason - since the crisis began in 2007 has been estimated at 60,000.
Rubio lamented the fact that the local bar was no longer considered 'the place to meet', and that with unemployment increasing by around 10% over this period, many people could no longer afford simple luxuries such as the coffee mid-morning, or the caña after work.
Between the years 2008 and 2013 bar and restaurant sales have decreased by an average of 22%, leaving all but the most popular bars in affluent areas in a precarious financial position.
However, even before the downturn of the economy, Spain had an estimated 350,000 cafes and bars - or 1 per 132 head of population. By 2014 the ratio had increased to 1 bar for every 155 residents.
Recommended Reading :
* One bar for every 132 Spaniards