Financial Impact of Corvera Airport on Murcia Questioned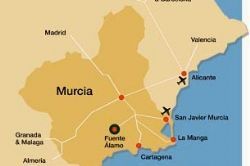 The Region of Murcia is ranked 181 in competitiveness and 204 for innovation out of the 260 regions within the EU, according to the President of the Confederation of Businesses for Cartegena (COEC), Pedro Pablo Hernández.
Hernandez made his comments during the Economy and Society Forum organised by the COEC in collaboration with the Technical University (UPCT) and the Association of Economists for Murcia.
Hernandez went on to say how industry should be "vital" to the economy of the region, and even more for the municipality of Cartagena, and criticised the "shortcomings" of the economy of Murcia in terms of competitiveness and innovation.
In his opinion, it is necessary to "enhance public investment and infrastructure" such as the Mediterranean Corridor, the AVE high speed rail network, the Gorguel port container base, and of course, Corvera Airport.
Hernandez' comments coincide with comments made almost one year go to the day by The secretary general of the PSOE in Murcia, Rafael González Tovar, where he said how a fraction of the financial support offered by the region on projects such as Corvera Airport would have a more a more immediate and impressive impact if offered to smaller regional enterprises.
Recommended Reading :
* Corvera and Paramount Divert Funds From Local Entrepreneurs