Europe's regional airports struggle as traffic shifts to hubs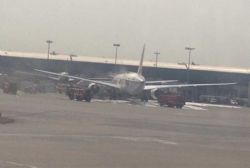 Dozens of small European airports, which blossomed with the advent of no-frills flying, face cutbacks or even closure as traditional airlines become more competitive and regulators clamp down on state aid.
After years of suffering at the hands of budget airlines such as Ryanair and easyJet, carriers including Lufthansa, British Airways and Air France have cut costs and consolidated to close the price gap on short-haul European routes.
In response, low-cost carriers are offering more flights to airport hubs used by their rejuvenated rivals, which are more convenient for city centres and transport links. Ryanair, for example, has stepped up services at Rome's Fiumicino.
"At first, people were prepared to travel (to smaller, often remote airports) because fares were so much cheaper, but now the cost of flying from large airports has come down," said Tanja Wielgoss, a partner at consultants AT Kearney. "It's always been hard for smaller airports, but now it's even harder."
Many small European airports are owned or supported by local governments, which hoped their growth would attract businesses, tourists and jobs to their regions.
But in a bid to mend public finances and promote competition, the EU is clamping down on state aid - a move likely to compound the problems of smaller airports that have failed to attract a critical mass of business.
The European Commission ruled last month that EU airports serving more than 5 million passengers a year will be banned from receiving state aid in future unless there is a clear market failure, while aid for airports with fewer than 3 million travellers will have to be phased out over a 10-year period.
Small airports will need to present a plan to the EU that shows how they intend to work towards covering operating costs to qualify for aid under the new guidelines.
That could pose a challenge for airports such as Germany's Kassel-Calden, which opened in April last year but had no scheduled flights this winter, and the multitude of "ghost" airports lying empty in Spain after the construction boom there came to a crashing halt during the global financial crisis.
"The EU ruling will have an impact. It may well lead to the loss of some operations and it is possible we could see some airports closing down entirely," said Simon McNamara, director general of the European Regions Airline Association (ERA).
As well as a blow for local governments, the demise of some small airports could hurt tourism and reduce choice for travellers in countries such as Germany.
"If you take out Frankfurt and Duesseldorf, then around 60% of holiday traffic in Germany goes via smaller airports," said GfK analyst Doerte Nordbeck. "There is a trend to move flights to larger airports but that's driven by the airlines rather than by what customers want."
BUILDING SCALE
Of the 22 airports that offer international flights in Germany, only 6 are profitable, according to information from German airports association ADV.
Kassel-Calden airport, built about 200 kilometres (124 miles) north of Frankfurt at a cost of 270 million euros ($371 million), made headlines when it had to cancel its first flight due to a lack of bookings and served fewer than 50,000 passengers in 2013, less than half its goal.
"We had some bad luck in our first year. Tour operators like FTI were on board but then (charter airline) XL Airways filed for insolvency," the airport's chief executive Maria Anna Muller said at the ITB travel fair in Berlin.
Muller said 2014 was more promising, as she announced plans by regional airline Germania and tour operator Rubin Reisen to offer trips from Calden.
In Spain, smaller regional airports built during the economic boom have for years struggled to find passengers.
Castellon airport in eastern Spain, for instance, was inaugurated in 2011 but has so far not received a single flight. The airport in Ciudad Real, a small city 200 km south of Madrid, has only had a handful of private flights. Both are up for sale but have failed so far to attract potential buyers.
Lerida airport in northern Spain has 7 flights a week, 5 of which are operated only in winter to bring British tourists to ski slopes in the nearby Pyrenees.
SURVIVAL
ERA's McNamara said many small airports had made the mistake of becoming over-reliant on a single budget airline.
"Low-cost airlines move very quickly and they will leave as fast as they come," he said. "Regional airports should look at trying to get a mix of different types of carriers and treat all of them even handedly."
Fraport, the operator of Europe's third-largest hub in Frankfurt, sold its stake in Hahn airport in 2009 after a row over a passenger fee that Fraport wanted introduced but which the airport scrapped at the behest of Ryanair.
Since then though, passenger numbers at the former army base about 100 km from Frankfurt, have fallen from over 4 million in 2007 to 2.7 million last year and Ryanair is cutting more services this summer.
One airport that shows small venues can work is Southend, east of London, which was last year named the best UK airport in a passenger survey carried out by consumer group Which? Once Britain's third-largest airport in the 1960s, it fell into decline due to lack of investment and in 2008 it was bought by Stobart Group, famous for its fleet of lorries.
The group invested £120 Mln, extending the runway so it could accommodate medium-range A320 and 737 jets, and even building its own train station.
The airport, which offers flights from a range of carriers such as easyJet, Aer Lingus Regional and charter companies, welcomed almost 970,000 passengers in 2013, compared with 42,000 before the redevelopment. The terminal can handle about 4-5 million passengers, now it has opened a new extension.
Operations Director David Lister told Reuters the airport expected to be profitable imminently and had even had a delegation over from Japan which wanted to get some ideas about how best to privatise its transport sector.
"Trying to get private sector investment is a very good idea. Once you get above a critical mass, airports can be very viable," McNamara said.
Further Reading :
* New UK Airport to Establish Routes to Spain
* Spain Airport Arrivals up 44%