Two bank executives win court battle over compensation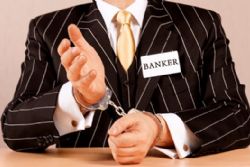 A court has ruled that Adolf Todó, former chairman of savings bank Catalunya Banc, and his CEO Jaume Masana will each receive 600,000 euros for being fired without compensation by the state's bailout fund, the FROB.
Theirs was the first such firing in the Spanish banking sector following the debacle of the regional savings banks, many of which turned out to have overexposed themselves to real estate risk. The Spanish government forced most of these lenders to merge to avoid bankruptcy, and was still forced to bail out a few, including Bankia and Catalunya Banc.
It was Economy Minister Luis de Guindos who had announced that the executives would not be receiving compensation after they were fired for mismanaging the lender, in a move that was meant to show the government was ready to punish bankers for their misdemeanors during the boom years of the property market.
The bank has already announced it will appeal the court's decision to pay the former execs a total of 1.2 million euros, which will come out of the taxpayers' money used for the bailout.
The case of Todó and Masana will go down in Spanish banking history as a case study in mismanagement. The lender ended 2012 posting losses of 11.8 billion euros, forcing the state to inject over 12 billion to prevent bankruptcy. It was the biggest bailout ever for a bank in Spain in proportion to its size, even bigger than Bankia's. Yet Todó earned 3.3 million euros between April 1, 2008 and May 10, 2013.
Some of the arguments used by the FROB to dismiss the duo included the fact that they spent 375,705 euros on a report by the consulting firm McKinsey whose final draft was never communicated to the board, and whose preliminary draft "in no way justified the amount paid in a satisfactory manner."
The FROB also accused them of "provoking an unsustainable internal situation that would force the bank to decide to dismiss them with a compensation."