Port Aventura to threaten Paramount Murcia with new €100 mln theme park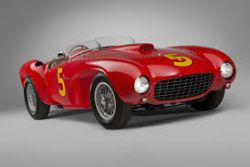 Catalan theme park Port Aventura announced on Thursday that it is going to spend €100 mln on new area devoted to Italian sports car manufacturer and racing team Ferrari, which will grant the park a license for the project. The deal was signed on Thursday between the firm and Bonomi Investindustrial, the theme park owner, the latter said in a press release.
It is still unclear whether Ferrari Land, which will go up inside the park's resort area, will have its own independent entrance (mirroring the system used with the existing water park) or whether it will be part of the larger complex. Port Aventura is located in Salou, in Tarragona province.
The decision to team up with Port Aventura slams the door on the Valencian government's bid to bring the project to its own territory. Between late 2010 and late 2012, both the regional government and the mayor of Valencia negotiated the possibility of opening a Ferrari theme park right next to the Cheste motorcycle circuit, which also doubles as a test track for Formula 1 teams. At that time, regional premier Francisco Camps and Valencia mayor Rita Barberα visited the existing Ferrari complex in Abu Dhabi and met with the Italian firm's boss, Luca de Montezemolo, in the Italian city of Maranello to discuss the details.
But in November 2012 the Valencian government walked away from the negotiating table when the investment fund slated to build the park failed to pledge that the project would have "zero cost" to Valencian taxpayers. Investment would have reached nearly €1 bln and created around 2,000 direct and indirect jobs.
When Ferrari Land opens inside Port Aventura in 2016 (according to the park's estimates), it will be the world's second leisure center devoted to the car maker after Ferrari World in Abu Dhabi. The area will take up 75,000 square meters and introduce new rides for people of all ages. In its statement, Port Aventura said Ferrari Land will include "Europe's tallest and fastest vertical accelerator" as well as "the first theme-based Ferrari hotel," restaurants, stores and race car simulators.
By comparison, Ferrari World in Abu Dhabi, which opened in late 2010, covers 200,000 square meters. The Formula 1 drivers Fernando Alonso and Felipe Massa were there for the inauguration and took the first ride on the rollercoaster known as Formula Rossa, which is the park's most iconic attraction.
Port Aventura gets four million visitors a year, half of them foreigners, making it "the second most popular destination resort in Europe and the first in the Mediterranean," according to the press release.
Recommended Reading :
* Watch Your Back Paramount Murcia !
* The Curse of Spanish Theme Parks