Spain's Catalunya Banc selling property unit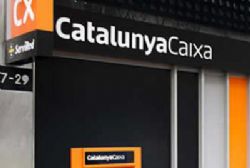 Spain's Catalunya Banc is making a second attempt to sell its property management division, 5 sources familiar with the deal said, as the nationalised lender seeks to get into better shape ahead of its eventual privatisation.
Catalunya Banc is in talks with Magic Real Estate, a local investment firm set up by Ismael Clemente who previously ran Deutsche Bank's property unit in Spain, the sources said.
The bank is also trying to sell a €1.5 bln portfolio of soured loans and a network of 200 offices outside its core Catalonia region, two of the sources said, as it steps up asset sales.
Catalunya Banc, which received part of a €41 bln European rescue in 2012 of Spanish lenders gutted by a real estate crash, is the biggest bank still in state hands after Bankia.
The government has struggled to auction off the Barcelona-based bank and a sale in early 2013 was abandoned when bidders asked for extra state aid to protect them against its soured assets.
The sale of Catalunya Banc's division, which manages about €8 bln of real estate loans and properties that have mostly been transferred to an external "bad bank", would likely be worth less than €100 mln, one of the sources said.
But it may help the bank get into a better position before the government attempts to sell it again.
Catalunya Banc had previously agreed to sell its property manager to U.S. investment funds Kennedy Wilson and Varde Partners last August, but that deal fell apart.
Magic Real Estate could not be reached for comment and Catalunya Banc declined to comment on Thursday.
Many Spanish banks, including Santander and Bankia, have put these types of units on the block in recent months or contracted them out to funds such as Apollo Global Management or Cerberus, capitalising on interest from foreign investors hungry for deals after the 6-year property slump.
Kennedy Wilson and Varde Partners bought just over half of Popular's real estate management unit last December.
Such deals usually hand the investment firms the contracts to manage the property assets, but do not actually include the real estate on bank's books.
Magic Real Estate last year partnered U.S. firm Blackstone to buy several apartment blocks from the city of Madrid. Three of the sources said Blackstone may also have a role in the Catalunya Banc deal, although it was not clear in what capacity. Blackstone declined to comment.
"It will still be good for the bank to advance with its plans to shrink and restructure operations even if the privatisation doesn't get off the ground this year," one of the people familiar with the deals said, adding that the government was still keen to try and sell the whole bank in 2014.
Spain's bank restructuring fund FROB, which manages the state's stakes in banks, declined to comment.