Spain Opposes Crimea Referendum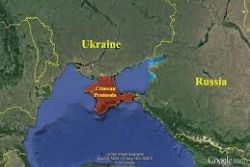 Spain officially announced on Sunday it would not recognise the outcome of the public referendum currently being held in Crimea for annexation with Russia.
The Spanish Foreign Ministry said in a statement the option of re-merger with Russia would be in breach of both the Ukrainian Constitution and international laws.
A number of the estimated 1.5 million Crimean eligible voters began showing up at polling stations early today to vote whether their country would remain under Ukraine's administration or be annexed with Russia.
The official Spanish statement called for dialogue among all parties of the conflict to reach a "settlement respectful of the legitimacy," noting that minorities in Ukraine must be involved in a broad national dialogue to determine the nation's destiny.
Spain has been vocal in the recognition of a number of political boundaries and annexations across Eastern Europe over recent years, fearful perhaps of a precedent being set for Spain's pro-independent regions.
Further Reading :
* Breakaway states like Catalonia and Scotland not guaranteed EU membership
* Spain will not interfere with Scotland referendum