Banking's back room risk cops step into top jobs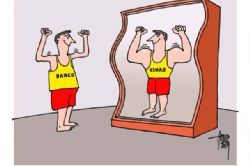 Once modest of pay and profile, risk experts are being reborn as rock stars of the banking world - their status and salaries soaring as regulators force financial institutions to clean up.
Industry-wide investigations into alleged exchange rate manipulation, trading scandals at UBS, Societe Generale and JPMorgan and HSBC's £1 Bln fine for lax money-laundering rules have upped the ante for banks already under pressure to curb reckless behaviour that led to the financial crisis.
Now watchdogs and central banks want to see a clear line of responsibility for the avoidance of such fiascos in the future, and as a result, the position of chief risk officer (CRO) has jumped up the ranks. Many CROs now sit alongside the finance director as second in importance behind the chief executive.
"The role of the CRO has become broader, higher profile and more influential," said Anne Murphy, head of UK financial services for executive recruitment firm Odgers Berndtson.
In turn, salaries have soared. Pay in risk-related jobs rose 6% in 2013 and rocketed 19% for those who moved firms, according to a report by recruitment firm Barclay Simpson.
HSBC chief risk officer Marc Moses joined the bank's board at the start of 2014, alongside the chairman, chief executive and finance director, and could be paid £6 Mln this year. Chief Executive Stuart Gulliver, who could be paid £11.4Mln this year, says pre-crisis, the bank's CRO would not have made it into the top 50 earners.
At Spain's Santander the top risk executive Matias Rodriguez Inciarte was its 2nd-highest paid director last year, getting €4.7 Mln.
Those numbers, says Murphy, are "recognition that it's a big job. There aren't many people who have the skills and abilities to do it well, combined with the increase in seniority and responsibility."
WIDE REMIT
Chief risk officers ensure that where potential dangers exist, they are monitored and kept in check. That can range from measuring how likely loans are to be paid back, how risky banks' positions in financial markets might be, and what potential losses may be incurred from fraudulent activities.
However after the financial crisis of 2007-2008 this already wide remit has become larger still, and its parameters more clearly policed.
CROs must ensure banks abide by tougher regulations around the world, hammered out by governments that had to use public funds to keep many of them from sinking under the burden of bad loans resulting from excessive borrowing, risky investments and a lack of transparency.
The new rules demand that banks take fewer risks, assess loans more closely and hold more accessible capital as a buffer against bad bets.
Many CROs are now also responsible for ensuring cyber security and spotting terror financing and money laundering - so-called compliance functions that previously often fell under the remit of a bank's legal division.
The scale of the new CRO job is reflected in the amount of time such concerns occupy at board level. Santander said its board spent 30% of its time last year on risk management, and Barclays' board has spent 35-40% of its time on governance and risk issues in the last 2 years.
As a result some CROs are being invited to join the board, another notch for their status and pay packets.
Juan Colombas, chief risk officer at Lloyds Banking Group since the start of 2011, joined its board in November 2013 and is one of only 3 executive directors. He could earn £4.4 Mln this year.
ACCOUNTABILITY
The job of CRO comes with its own risk/reward equation: its new elevated status also brings far more accountability.
Following the introduction of new post-crisis legislation in Britain, for example, these bankers can now be sent to prison if found guilty of the new charge of reckless misconduct leading to bank failure.
"Whereas before it was a slightly techy and bookish type of job, now risk is incredibly diverse and carries a huge amount more responsibility if you are running the department, and the repercussions for the chief risk officer are profound," said Mark Garnier, a British lawmaker who was part of a panel that last year proposed changes to make individuals at banks more accountable.
However the jump in pay and profile means that the job is nonetheless likely to tempt more candidates to fill what is currently a small pool of specialists.
Headhunters say the rising status of top risk managers could see it become a popular path for ambitious executives who now see it as a route to the CEO's chair.
Further Reading :
* 2 Bank Execs Win Court Battle Over Compensation
* Spain to Try Former CAM Execs Over Bank Collapse