Spain Q1 GDP growth seen 'at least the same' as Q4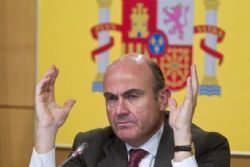 The Spanish government expects Q1 growth to be 'at least the same' as Q4 growth of 0.2%, Economy Minister Luis de Guindos said on Tuesday.
"We still don't have all the indicators for Q1 ... but the government expects the economy to continue to strengthen and growth to be at least the same as in the previous quarter," he said at an event in Madrid.
Spain's gross domestic product (GDP) expanded by 0.2% in Q4 from Q3, its second quarterly expansion in a row.
Recommended Reading :
* Recovery in Spain picks up pace at the end of 2013