Over half of Catalans support independence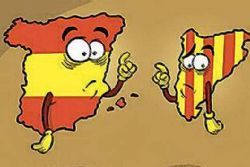 Some 60% of all Catalans would vote in favor of independence from Spain in a referendum, according to the results of a survey conducted throughout the Autonomous Region.
The results of the study released by the Opinion Research Center on Tuesday follows PM Mariano Rajoy's comments last month that a push by Catalonia to hold a referendum in November should not be allowed to undermine the unity of Spain.
"The referendum is illegal and will not happen," he said.
According to the survey, 60% of Catalans polled said that they backed independence, while 22.1% said they would be against. A total of 15.7% would abstain.
About 87% of Catalans said they would respect the outcome of any vote.
The figures show a rise in pro-independence sentiment after a similar survey in Catalonia region last November indicated 54.7 percent of participants would vote for independence.
Spain's Foreign Minister Garcia Margallo said the referendum held in Ukraine's Crimea, in which 96.77% of the electorate voted in favor of joining the Russian Federation, was parallel to the one suggested for Spain, adding that both violated international law.
The poll in Crimea on Sunday has been condemned by the U.S., the EU and the Ukraine government.
Recommended Reading :
* Spain Opposes Crimea Referendum