Spain's Rescued Banks Facing Claims on €3.1 bln Debts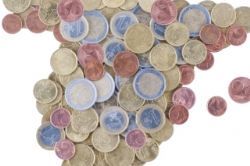 Arbitrators appointed by the Spanish government are considering claims that might leave rescued lenders Bankia, NCG Banco and Catalunya Banc liable to pay compensation to individual investors who bought as much as €3.1 bln of junior debt.
Independent assessors including KPMG and Ernst & Young are examining the possible mis-selling of products such as preferred shares and have agreed to consider compensation requests from 269,204 customers, according to a government report sent to parliament on March 14 that was seen by Bloomberg News. The requests being reviewed represent 45% of the €6.8 bln of securities subject to the claims, the report said.
Spain's government is trying to coax the economy back to life after 2 recessions in 6 years and a €41 bln bailout for the banking system. The arbitration process was set up to assess claims from savers who say their banks failed to have properly explained the risks of buying junior debt instruments during the financial crisis.
The process "will likely reduce the negative political impact of burden-sharing," said Antonio Barroso, a London-based political analyst at Teneo Intelligence. "It might also partially help to repair the loss of confidence in financial institutions."
Bankia Claims
Bankia faces claims on €2.2 bln of securities, the report shows. The 260,000 clients that have already been awarded compensation are due to receive close to the nominal amount of their investments, Deputy Bank of Spain Governor Fernando Restoy said Feb 5th.
KPMG is assessing client claims against Bankia while Ernst & Young is reviewing Catalunya Banc claims, spokeswomen at the lenders said.
Bankia's parent company, BFA, has set aside €1.2 bln to cover liabilities from the arbitrage process, the lender said in its 2013 earnings statement. Bankia shares fell as much as 2% before trading 0.4% higher at €1.53 at 1:35 p.m. today.
Spain's 2012 banking rescue imposed losses on holders of junior debt, a procedure that proved controversial because bailed-out lenders had raised capital by selling junior debt such as preferred shares through their branch networks to customers who didn't always know what they were buying.
The independent experts have so far rejected requests from retail investors holding €3.6 bln of subordinated securities, the report said. Catalunya Banc, NCG Banco and Bankia, lenders created through the mergers of former savings banks, sold €9.8 bln of loss-absorbing securities to retail investors mostly after the credit crisis left them shut out of wholesale debt markets.
A Madrid-based spokesman for the Economy Ministry declined to comment.