Spain's bailed-out Bankia plans shareholder payout next year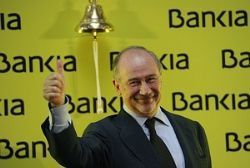 Spain's bailed-out Bankia aims to pay a dividend next year, allowing the state to recoup more of the billions of euros taxpayers poured into the bank and helping to compensate thousands of small investors who lost money.<
Once a symbol of Spain's financial crisis, Bankia has evolved into a sign of the country's economic recovery after it returned to profit in 2013 and the government began selling its majority stake, turning a small profit.
But the bank still draws anger from small investors, who believe they were mis-sold complex savings products that became Bankia shares when the bank was rescued in the country's biggest corporate bail-out.
About 100 of them demanded compensation outside the bank's annual shareholder meeting on Friday in Valencia, where it has its headquarters. They heckled Bankia's Chairman Jose Ignacio Goirigolzarri as he told the meeting the bank aimed to paying a dividend in 2015.
This would be the earliest Bankia could make a payout to shareholders under the terms of its rescue. The dividend would be taken against 2014 profits, and submitted for shareholders' approval at next year's annual meeting.
"I can assure you that the board and the whole Bankia team is working with all the effort and commitment needed to make this dividend payout possible," Goirigolzarri, who took over when the bank was rescued in mid-2012, said.
"It would be a way to reward our shareholders' faithfulness, and it would also be an additional means of returning aid to Spanish taxpayers," he said.
Created via the merger of seven savings banks in 2010, Bankia was crippled by soured property investments and rescued less than a year after joining Madrid's stock exchange. I Now 60.1% government-owned, it took €22.5 bln in state aid altogether and has never paid a dividend.
The government sold a 7.5% stake last month, attracting big name investors such as billionaire financier George Soros. International funds now own more than 19% of the bank's capital, up from under 4% last May.
When the bank was rescued about 285,000 people, including many pensioners, held Bankia preference shares and subordinated debt which had to be exchanged into shares at discounts after Bankia had to accept a €41.3 bln rescue from Europe.
Consumer group ADICAE, which represents many investors involved in that exchange, said dismissed Bankia's talk of dividends next year and called for the bank's management to focus on investigating and making up for past errors.
COMPENSATION BATTLE
Bankia, which has been cutting branches and jobs, turned a €512 mln profit in 2013 after a €19.2 bln loss the year before.
But it is still battling to mend its image at home, where several past managers are embroiled in court investigations.
Many ordinary Spaniards also lost money after they bought into Bankia's stock market listing in 2011, a transaction that is being probed by Spain's High Court.
ADICAE said earlier this week that a Madrid court had accepted a class action lawsuit, grouping complaints from 3,200 families over the alleged mis-selling of hybrid debt such as the preference shares, a cross between debt and stocks.
Some investors will get their money back through an arbitration process handled by consultancy KPMG, and so far 137,476 clients have been successful, equivalent to about €1 bln worth of investments that have to be returned.
Others may get their money back as Bankia's share price rises. Bankia estimated that about 42% of former preference shareholders were now breaking even, but some protestors at the meeting said that wasn't good enough.
"It's true that the share price has started to rise and now I might recover about half my investment, but I don't want to wait anymore, I don't want to be a shareholder against my will," said Isabel Gallego, a 54-year-old auxiliary geriatric nurse who invested €60,000 in preference shares sold by some of the entities that merged into Bankia.
She said she had been denied the right to participate in the arbitration and was told she didn't have the right documents.
Bankia shares were down 0.4% at €1.51 at 1527 GMT on Friday, more than double the level compared with last year's shareholder meeting in June.
Read the timeline of the Bankia Collapse to Rescue archive by clicking the link > HERE <