Spain's finance minister rules out new VAT hike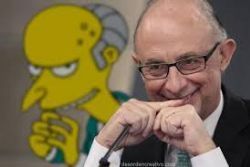 Finance Minister Cristóbal Montoro announced on Friday that the government's major overhaul of Spain's tax system, which is currently in the pipeline, would not include a rise in "indirect taxes on any products."
This statement suggests that value-added tax (VAT) rates will not go up again, following the hike introduced in September 2012.
His announcement, which came after the Cabinet meeting on Friday, marks the first time that the minister has rejected outright the idea of raising the reduced VAT rate of 10% on certain products up to the regular rate of 21%, as a committee of experts recently recommended.
Organisations such as the IMF and the EU have repeatedly asked Spain to raise these reduced taxes. A panel of experts whose advice was sought by the government is recommending the same measure as part of a broader reform of the national tax system.
The panel argues that raising VAT is necessary if the government is to lower income tax or social security contributions, without reducing the state's revenues. This, the experts claim, would help create jobs. Economy Minister Luis de Guindos is also a proponent of this strategy.
But at Friday's press conference, Montoro insisted that "the tax reform scenario will not include a VAT hike. We have already raised it; we as a society have already made that effort, and we did it at a dramatic time for our economy."
Yet sources at the Treasury Ministry noted that there will be VAT hikes on health products, as imposed by the European Court of Justice in a January ruling.
Recommended Reading :
* Government Experts Recommend Reducing Income Tax
* Spain Tax Proposal Calls For Company Rate Cuts and IVA Hike