Spain PM Gets EU Support on Energy Interconnection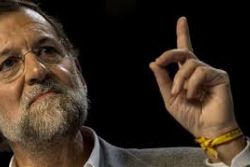 Spanish PM Mariano Rajoy said in Brussels Friday he was pleased that his petition to improve energy interconnection within the 28-nation bloc obtained the support of his EU colleagues.
His petition in that area was seconded by Portuguese Premier Pedro Passos Coelho and received the backing of other European leaders, Rajoy said at press conference at the conclusion of a two-day EU summit.
"It's a key objective to improve the Iberian Peninsula's interconnections," he said, adding that European funding to pay for the necessary infrastructure would be accelerated.
He said he was particularly pleased that explicit mention was made in the summit declaration of the need to promote energy connections such as the Midcat, the gas pipeline linking Spain and France.
Rajoy also stressed the importance of the relationship between climate and energy, noting that a more interconnected and integrated energy market is essential if Europe is to meet its climate change commitments.
"The summit's conclusions reflect the interests expressed by Spain," he said, adding that there is "a link between the climate objectives and the need to advance on interconnection, while there's also recognition that the efforts must be divided up fairly among the member states."
Recommended Reading :
* Spain has one of the highest cost of electricity in Europe : Study