Happy Birthday Castellon Airport !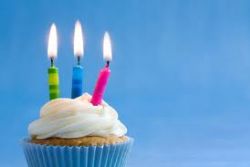 Tumbit would like to join with the Millions of satisfied passengers to have flown through the facility over recent years, to wish Castellon Airport a Happy Third Birthday.
Like the parent of every toddler will know, the 'terrible twos' are now behind the Generalitat Valenciana, and the worst of the tantrums, potty training and bed-wetting is surely behind the fledgling facility.
Doubtlessly, the 6 million plus residents of the Autonomous Community of Valencia, would agree with Tumbit that the €130 Million spent by the taxpayer in building the facility is money well-spent in times of such austerity. Thank the lord the project did not overrun in any way, or leave the Taxpayer footing the bill for operating or maintaining an empty "White Elephant" as is the case with so many other airports in Spain.
Thank the Lord too that the former President of the concession holder of the Airport, Carlos Fabra is / was an honest and upstanding member of society who has not in any way besmirched the good name of the airport, or tarnished it with with allegations of his corruption and bribery.
How fortunate the airport is, to have snared the services of one Sr Juan Garcia Salas as the Director of the Facility. A snip at just €84'000 per year (less than the PM) considering all the hard work he has done over recent years to ensure the smooth running of the airport, and having been successful in attracting so many airlines to Castellon.
How fortunate that the former President of Aerocas was not tempted to spend €500'000 in a display of conceited arrogance by installing a 20mt Bronze effigy of himself outside the main terminal building.
How blessed we are all as taxpayers to have the Generalitat Valenciana negotiate the sale of the airport for a net loss of just €67.5 Million to a Canadian Aviation group, who have still not managed to finalise the deal.
What a perfect example of a well-run and profitable airport, Happy Birthday Castellon !
Read further Castellon Airport news by clicking the link> HERE <<