Madrid Metro to close 24 stations for upgrades this summer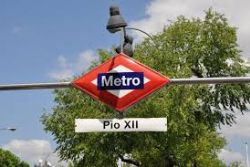 In its biggest maintenance project for a decade, the Madrid Metro will temporarily close 24 stations on 5 lines over the summer so that workers can reinforce rails and foundations along 34 kilometers of track.
The 3-month venture, which gets underway this week on some lines, will affect about 80,000 passengers, who will have to rely on alternative routes or take replacement bus services provided by Metro authorities.
Around €26 million has been earmarked for the so-called "Operation Tunnel" project – almost three times the €10 million allotted to summer maintenance programs over the past 3 years.
Government officials hope to introduce Operation Tunnel on an annual basis to upgrade the infrastructure throughout the capital's underground rail network. Work in the Metro usually takes place during the summer months when many people are away on holiday and there is less passenger traffic.
The routes that will be affected this year are: Lines 5 (light green), 6 (circular, gray), 7 (MetroEste, the newest route), 10 (royal blue) and 12 (MetroSur).
Line 10. On June 24, the stretch between Puerta del Sur and Colonia Jardín stations will be closed for about two months as workers replace rail dowels and rebuild the concrete foundations that hold them, as well as improving water drainage systems.
Line 6. Work on the route between Moncloa and Metropolitano stations will begin on June 26 for about 2 months, but only Ciudad Universitaria station will remain closed right through until September 1.
Line 5. Work on the link between Alameda de Osuna and Torre Arias stations will begin on August 2 and will last about 2 weeks.
MetroSur. Resolving water leakage and ensuring trains do not derail as a result of drainage problems are two priorities on this line, which was opened in 2003. Two years ago, two stretches of the line were closed as emergency precautions. This summer, work will affect around 14 kilometers of track.
MetroEste. The newest of all the rail lines, inaugurated in 2007, this route has also been plagued by leakage problems from water with high salt content. Work will take place for three months and during that time services will be suspended between Estadio Olímpico and Hospital del Henares stations. The exact dates have not yet been worked out by Metro officials.